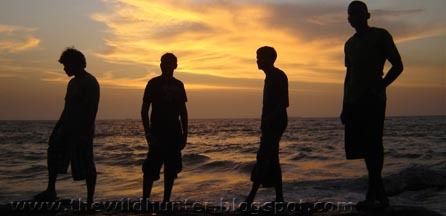 Atlas we have made another visit to Mountlavinia Beach today... I have been there so many times, but today we had so much fun with one of my friend's brother. He came over to stay in our place for 3 days. At the beach, it brought so many wonderful memories from the past.. . We took lot of pictures.. Bought snacks.. Even we got our legs wet in the seashore.
We have been planning to go there for three weeks.. But everyday we came up with something, preventing us from getting there. Even yesterday we tried to go there. It was a normal sunny day. But as we stepped out of the house, the sky started to get dark n it started dripping rain drops. We thought that the rain would go away soon. But as we got down from the first bus, it started to get heavier. By the time we were in the second bus, the rain started pouring. Oh we were so unlucky. But still with the hope that it would stop soon, we ended up in our final stop running to our lives to get into shade. We got down from the bus when it was in the middle of a cross road. We got half wet in the rain.
We gave up the plan of going to the beach and headed back to our next destination on another bus. Yesterday, we traveled by bus. It was really fun getting wet in the rain and jumping from one bus to the other in the rain.
After having enjoyed a good time we had to say good bye for our guest. Hope he had fun with us. We really did.
Pics taken by Iboo.