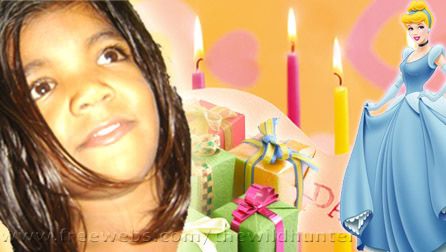 Put on your party cap….
& have a day that's bouncing
With FUN all the day!!
Wish you a very very happy b'day LUMKO!

Lumko is my 3rd niece and she is 6 years today btw someone told me today is Salwa's b'day too. But who is Salwa?? Hmmm… Who??? Still my mind is blank.. ohhh… OMG is it... Is it her?? Cinderella??? Ohh no no not even her… So who is this Salwa?? Ooooh yeah yeah maybe the one who begged for a slipper!!!! She is my best friend's girl… Got it got it.. Sorry salwa! I just forgot it…Anyways wish you a very very Happy b'day Salwa!!! May the days that come, bring you success and joy.. Hope you'll have a gr8 day full of surprises...