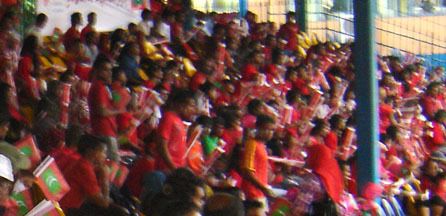 Yesterday Maldives beat THE LIONS on their own land and won the match... dhagadey gave the pass and oppo scored the goal on the 27th minute of the second half. it was a really nice goal.. It was my first time in a stadium with such a big crowd, and i really wanted to see how the supporters reacts when the Maldives score a goal.. But at when Maldives scored, i couldn't look for the supporters, i myself was full of joy and felt proud of our National team... I didn't know what i did that time.. Coz everyone was shouting and screaming...


We went in a crowd of 13 people to the ground around 6:00PM. Match started at 7:30PM.. Some Maldivians went to the ground by a bus from Maldives High Commission.. We were wearing red t-shirt as all the other Maldivians with head bands and little face faints... I can't exactly say how many Maldivians were there, but it must be more than 1500, i guess. It was no different than being in our own country. I'm proud of our National team and of course all the supporters for the support they gave.

Final match will be held at Sugathadasa Staduim on 14th June. This time it's Ours.. Insha allah...

Pics taken by Iboo.